---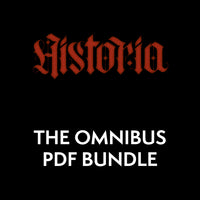 Sale
Historia is a Dark Fantasy Renaissance setting for the 5th Edition of the world's greatest roleplaying game that introduces the setting of Vesteria, a merciless land, full of intrigues and populated by anthropomorphic animals.
The characters will find themselves against the hardships and dangers of a feral and precarious world. The heroes of Historia will explore unknown lands, unravel plots and intrigue, and will be forged by the fires of adventure.
Here you have the incredible opportunity to get ALL the Historia PDF and digital files at a CRAZY DISCOUNT price!

Historia - The Omnibus PDF Bundle includes:
Historia – Adventures Book PDF

Historia – Artbook PDF

Historia – Core Rulebook PDF

Historia – Lorebook PDF

Historia – Maps Pack PDF