---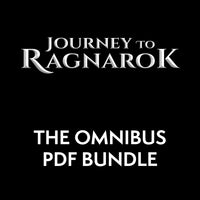 Sale
Journey To Ragnarok is an adventure and setting module for 5e characters of levels 1st to 15th, inspired by Norse myths and legends.
It is a captivating adventure that will lead the Heroes from Midgardr through the Nine Worlds. In an epic journey, the fate of men will be tied to that of the gods, until the final moment, the Ragnarok.
Here you have the incredible opportunity to get ALL the Journey To Ragnarok PDF and digital files at a CRAZY DISCOUNT price!
Journey To Ragnarok - The Omnibus PDF Bundle includes:
Norse Grimoire PDF

Journey To Ragnarok – Adventure and Setting PDF

Journey To Ragnarok – The Rune Thief PDF

Journey To Ragnarok - Artbook PDF

Journey To Ragnarok - Maps Pack PDF

Journey To Ragnarok - Pregen. Characters Pack PDF

Journey To Ragnarok - The Grey Wanderer PDF

Journey To Ragnarok - Tokens Pack (Digital File)

Journey To Ragnarok - Battles Beyond The Sea PDF