---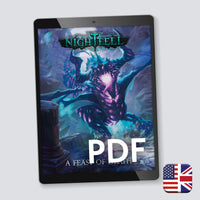 Special Adventure for Nightfell written by Marco Fossati 
This adventure is designated to a party of four 14th level characters.
You can adapt the difficulty for larger parties and parties of higher or lower level by adjusting the number of enemies that the characters face.
The adventure is designed to be played immediately after "Vengeance is Mine" the last adventure in Nightfell's Adventure Book.
It is designed to be played independently and can be added to your personal campaign.
In this tale, the characters will face the reborn Cult of the Serpent, in an attempt to bring it down before it returns to being the threat it once was. Despite being a linear adventure, the characters will have to choose how best to deal with the enemy, as they will soon realize that using violence could turn against them.
Nightfell is a grimdark setting for the 5th edition of the most famous role-playing game in the World. 
Embrace the darkness!

(Not included in Nightfell Adventures Book)